Vibhore Goyal
Vibhore is an IIT Bombay alumnus ((DD '05 EE H9) who co-founded Babajobs (sold to Quikr), CoCubes (sold to Aon), and is currently the founder of his third venture, OneBanc. He has spent over a decade leading teams and building products that solve real-world problems.
As a reminder, this is a regular column covering entrepreneurs and their journeys in startup-land. Our hope is to give the reader a behind-the-curtains look at what it takes to build a startup. We will cover stories of entrepreneurs who succeeded as well as those who had to shut their startup and the trials and tribulations along the way. If you are an entrepreneur or know of one, please reach out to us!
This is a special column published in conjunction with the FinTech Summit 2021. We talked to Vibhore Goyal, founder of OneBanc and former co-founder of CoCubes, on his experiences building, scaling, and exiting one startup and then starting another one soon thereafter. He is the co-author of Let's Build A Company, a book describing his journey building CoCubes.
Here is an edited interview.
Fundamatics: You were already a serial entrepreneur before you started CoCubes. What were the motivating factors for starting each of those businesses?
VG: I have always been interested in doing something more than what is expected. I worked as a part-time motorbike mechanic during high school and as a freelance software developer during IIT. In my fourth year at IIT, I joined a phone OS startup, RetroOS, with the dream of making it big but the vision dissipated as soon as Android was launched. After graduating, I joined Microsoft but left in two years to start Babajob which was focused on the low-skilled job market. In slightly more than two years, we sold Babajob to Quickr.
At that time, I really wanted to address the problem of giving students from non-top tier colleges access to some of the best jobs in the country. While there were more than thirty-five thousand colleges in the country, the leading employers chose to recruit students out of a small fraction of those due to time constraints. My cofounder, Harpreet, and I were roommates during our days at IIT and had a complementary skillset, so it was an easy decision to start my 3rd venture.
Fundamatics: Shortly after you started CoCubes, the Global Financial Crisis affected economies around the world. How did it affect you? How did you navigate that journey?
VG: CoCubes initial business was enabling companies to hire top talent from colleges across the country. CoCubes stood for Connecting Colleges and Companies. Due to the crisis, our role shifted from talent discovery to talent selection. For a job that paid 25 thousand rupees a month, a company would get over one thousand applications. We pivoted our business to help review the applications and find the right candidate.
We were going through a cash crunch and had multiple investors offering to invest $10M in CoCubes. As a team, we decided not to raise that money as the market was not large enough to provide adequate returns to new shareholders. We took a few hard decisions: reduced our team by 60%, shifted to a much smaller office, and focused on sustainable revenue growth. As a result, we became EBITDA positive in 2013. During this time, we ensured that everyone who was let go understood why we were making that decision. We supported everyone to find the next job and honoured all our commitments to them when we finally exited CoCubes. They will always remain a part of the CoCubes team.
Fundamatics: You started CoCubes with a close friend from IIT Bombay. Would you recommend starting a business with a close friend? Any downsides?
VG: It is always helpful to know your cofounder well before starting the business, but a non-ideal business outcome is not worth losing a friend over. We were always aligned on the vision for CoCubes but disagreed often on the best way to get there. We made it a priority to talk each other through our thought process, decide on a path forward, and preserve our friendship. I believe that the best cofounders have complementary skills and are always honest with each other. This is also true for the broader team. It takes a lot of maturity for a friendship to survive the startup journey, both when things are and are not going well. It is no surprise that our wives are jokingly jealous of our relationship!
Fundamatics: It took 10 years and 3 pivots for you to reach product-market fit. What kept you going along the way?
VG: My simple answer would be our confidence in our team and our investor. Our team's passion and commitment made the journey worthwhile for us. Finding a good exit was a cherry on the cake but the real cake was the joy we experienced every day while we were building the company.
As an example, early in our journey, a potential investor backed out the day the investment was supposed to close. We had to go back to the team and let them know that the funding fell through and they had the option to stop working or look for alternate jobs since we did not have the cash to pay any salaries. To their credit, no one left us even though we're paying them meagre salaries. When we were finally able to raise the next round in nine months, we made up for the lost salaries and performance bonuses.
Fundamatics: You decided to exit CoCubes to Aon after building the

business for over a decade. What did you feel while making that decision?
VG: My cofounder and I wanted to scale CoCubes further, but we also realized the value Aon would bring to the business. Our investor had supported us through thick and thin, so we felt it was our responsibility to provide them with a financial exit. While it was emotionally difficult to sign the sale agreement, we knew it was the right thing to do. Also, we never started with an aim to build a lifestyle company but to build something that can outlive us.
Fundamatics: And how did you feel the day after you left CoCubes?
VG: There are three things that made up my regular routine: black coffee, walking, and working. I expected that I will start missing work but that never happened as I started working on my next venture soon after. Initially, my wife was looking forward to spending more time with me but after the first long vacation, she decided that I am better off in the office.
I also expected that I will miss the daily interactions with my team. However, we continue to be in touch regularly so that has not affected me as yet.
Fundamatics: You hardly took a break between exiting CoCubes and starting OneBanc. It seems like you are a glutton for punishment.
VG: I did take a short break to pursue my passion for flying and get a personal pilot license, but you are right. I am a workaholic and I need to be constantly active – both literally and metaphorically. I was once working with a partner at Babajob who inquired about product delivery timelines and I committed to 7 days. He had always worked at large tech companies and assumed 7 business days whereas I meant 7 days including the weekends!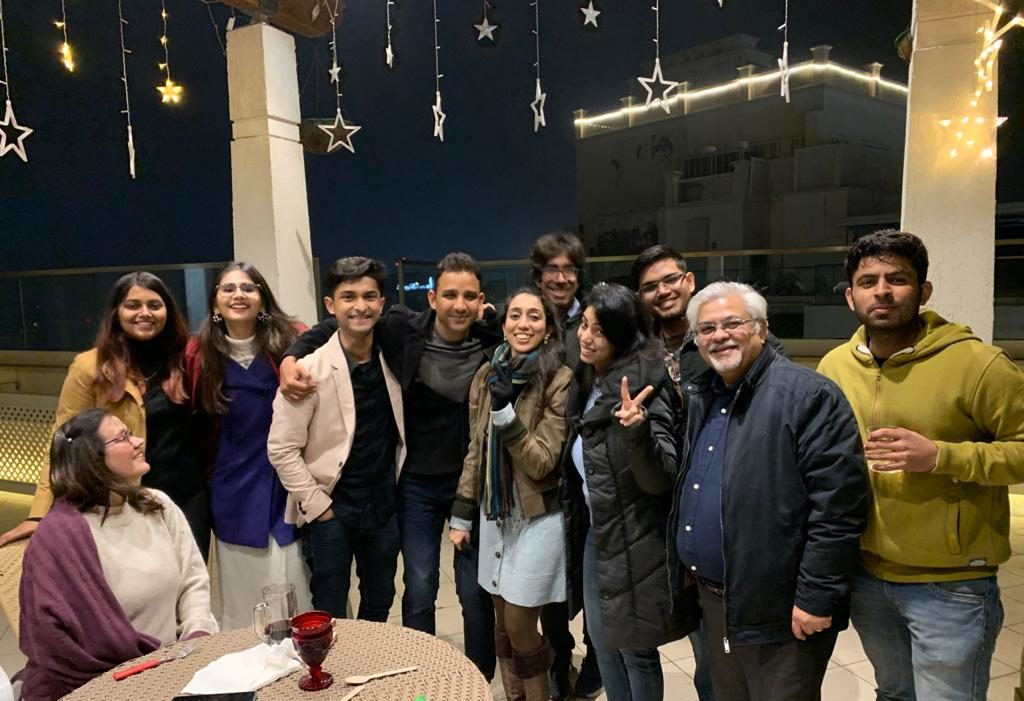 Fundamatics: You are switching gears and entering the fintech space now. Why is that still an attractive sector even with the likes of Paytm, PhonePe, Jio, etc. in the space? Why now?
VG: Currently, all fintech products are built by and for finance insiders such as accountants and career finance professionals. We believe that the products should be built with the common person in mind and address all their needs. We do not have one large problem that needs to be solved but have numerous small problems that a bank can help solve.
As a growing economy where consumers are willing to pay for superior experience and service, we feel there is a significant opportunity for innovation. OneBanc wants to build Personalized Experiential Banking which the GenY and GenZ generations are craving.
Fundamatics: Any final words of advice to other entrepreneurs?
VG: Here is my short list:
Have a co-founder who complements your strengths.
Ensure that you and your team are living comfortably enough to focus on the startup. Unnecessary hardship (e.g. not paying the founders a salary) is not a show of commitment.
Hire the right core team. And do not throw money at the problem.
Spend quality time with your family because you will most likely fall short on quantity.