Entrepreneurship is not an easy option for a school dropout who chooses technology innovation in products for his business and as his passion. Ravindra Ganpat Chopade is one such human being who has come a long way from being a school dropout to an inventor. Ravindra is an owner of a patented-pending printing technology and a SINE incubate who has developed 3 kinds of printers that revolutionised his embossing technology. He cannot write in English and speaks only in Marathi and Hindi so we decided to write and share his inspirational and life changing story.
Stumblebee
Born to a security guard working for IIT Bombay, Ravindra grew up like any other child on campus till he was 12. Typhoid followed by some problems with his leg denied him a chance of going beyond class 6. But the need to survive in a city like Mumbai and the possibility opened by his proximity to IIT enabled him to pursue his passion of tinkering with existing technologies and developing products. Ravindra was interested in electronics from his childhood and he took up a course in Electrical Engineering fundamentals, which was open to the children of IIT staff. It was during this time that he developed his first machine, a manual motion picture machine. His IIT certificate helped him in terms of basic knowledge and also gave him certain credibility in seeking employment. But it did not satiate his hunger for innovation and product development.
Ravindra recently filed a patent for a printing technology and is a SINE incubatee who has developed 3 kinds of printers that revolutionizes embossing technology.
The dreamer in him wanted to start something on his own and be a self reliant businessman. But with the grim status of a no good business, thanks to the failed project of owning a photocopy shop near Hostel 10, made Ravindra realise that the demand was not in the photocopying business, but there was  demand for quick quality print outs among IIT students working on their project reports and their thesis. He opened a little printing shop outside Y-Point gate and Ravindra was closer to his dream of being a businessman. He did not account for the stiff competition from other stationery and printing shop owners nearby who tried to force out the new entrant by charging double rates for all the binding assignment that Ravindra's shop was sending their way.  Since Ravindra did not have a binding machine, he was forced to comply but his venture was bleeding money.
Necessity is the mother of all inventions and Ravindra was determined to turn this venture into a success. He was also confident in his ability to open any machine and tinker with it till he could fix it to suit his own needs. So he purchased a second hand manual machine for binding and gold embossing and modified it to suit his business needs.
His stint with SINE started under a programme sponsored by Govt of India. After a rigorous proof of concept stage he received 10 lacs as a grant to develop his machine further.
Business soon increased but the labour intensive nature of typesetting gold embossing once again forced him to start thinking creatively about automation of the embossing technology. As the load of work of embossing was increasing day by day, Ravindra searched for alternatives to the conventional punching type method for doing golden embossing. He visualised a computer-operated machine, which could perform embossing and went hunting to Chor bazaar and Crawford market for a device he could modify.
Accidents are not manmade they say and tinkering can open up possibilities for a man who has latent innovative abilities. One day when Ravindra Chopade, was repairing the wires of his machine he discovered that he could emboss golden words on leather.  He kept the golden foil on the leather and wrote his name with a soldering iron on it and found that his name was embossed in gold on leather. This gave him the idea to search for a pen, which could do gold embossing. Ravindra first experimented with a soldering machine and foil on a piece of rexin. When this experiment succeeded, he approached the modern day answer provider to all our questions— Google. He searched for existing machines and found that one machine, a plotter from a Company named Graptek that could be modified to fit his requirements.  However he still could not find an old plotting machine and buying a new one was beyond his budget. Luck once again played a role as one of his father's friends helped him locate one such machine in the scrap heap in front of Mechanical Engineering department. Although he found this scraped machine, he did not have supporting accessories to go with it. It took him a long time to find the right kind of accessories and Autocad 4.5 software. To create the heater, Ravindra took a 12-volt soldering iron, replaced the tip with that of a normal ballpoint pen, heated it, and operated it. Initially the point would go all the way till the end of the machine and come back to its normal position. He did not know how to make it type. He installed software and slowly discovered how to type out words which his pen plotter machine was built for embossing.  With no citation to his name, Ravindra passionately claims that this is a one of a kind of machine in the market that embosses with depth. Generally in printing technology it takes a day for the dye to dry on a paper but when a paper is printed by Ravindra's technology, the words get embossed and are done at a much quicker rate and faster turnaround time.  Today he has graduated from printing 100 books per week to 1000 books and he is perhaps the only shop in all of Mumbai with the ability to do so.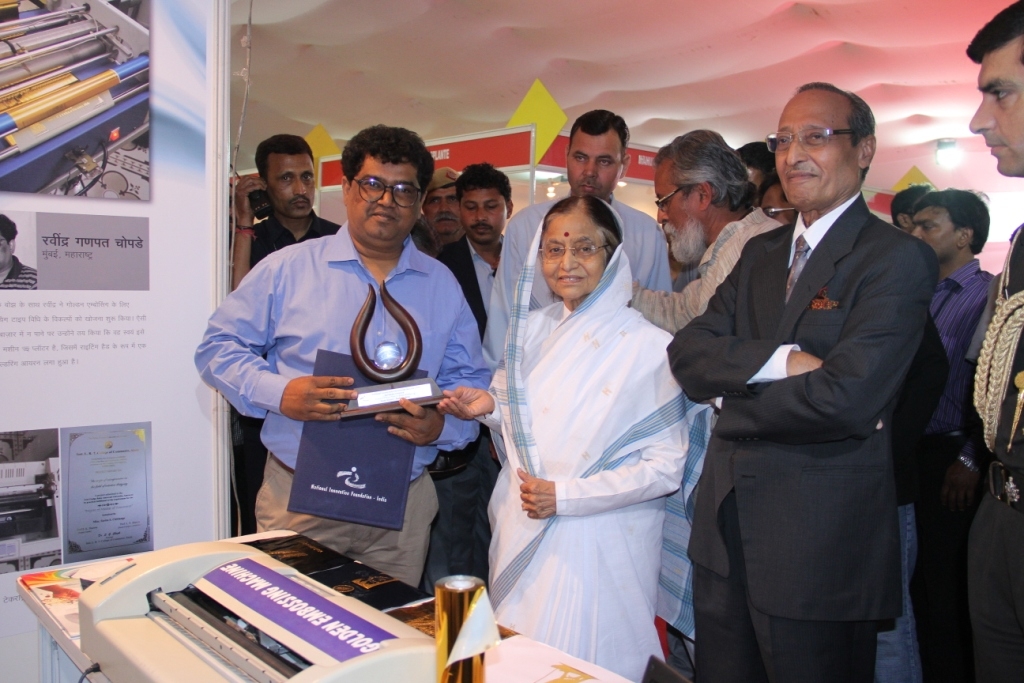 The next break for Ravindra came when he encountered Madhav Sawant, a man more interested in the machines which Ravindra was using rather than the output from it. Madhav Sawant introduced Ravindra Chopade to the world of patents and told him about SINE. Ravindra's stint with SINE started under a programme sponsored by Government of India. After a rigorous proof of concept stage, he received 10 lacs as a grant to develop his machine further. He has even showcased his technology at Techfest.
Ravindra Chorpade has 3 interesting inventions in his basket to share with the world. One is a vinyl cutting machine which was successfully modified into a golden embossing machine. This machine had FIXE software, which provides the filling effect option, which is instrumental in giving depth to the content embossed on rexin or leather. This machine was converted into a flat bed machine in the year 2003. The current model has been completely built from scratch by him. The second invention was initially developed in the year 2006-07. This machine can be used as an attachment to any printer. The machine traps and uses the heat of the ink on the paper. The foil rolls over the paper as it passes out of the machine and the ink is super imposed with gold from the golden foil rolling over the paper. The attachment supports content up to 1200 dpi. This is a very good machine for gold embossing on any paper. Also, since it comes as an attachment it could be a suitable product in the market. The third machine is a dot matrix printer used for golden embossing. The innovator experimented on about 15 – 20 printers before finally arriving at the precise measure of heat and punch required to achieve the best results. At one point of time he had 22 credit cards, which he used to purchase machines on credit. He accumulated massive debts, which he eventually cleared with great difficulty. This machine has been built by modifying an Epson dot matrix printer. Anything up to 100mm, book, paper, leather, rexin, PVC, and cards can be embossed by this machine. The machine cannot however emboss on metal.  A machine that will emboss on ribbons is in the drawing board stage.
Today Ravindra Chorpade has 3 interesting inventions in his basket to share with the world.
On one hand Ravindra Chorpade looks forward to be recognised globally and launch all the three machines in the market either by starting his own venture or under a royalty arrangement through a bigger enterprise that will help him with commercialisation and also help him in R & D efforts to develop other machines. But on the other hand, he is skeptical about competetive giants in the market wiping out his efforts even before he has begun.
Today Ravindra dreams of an opportunity for further training so that he can continue his work, innovate and develop even more sophisticated printing machines. He is a man who has a god-gifted talent for tinkering and exploring with gadgets but little or no knowledge of how to market the products on a larger scale.  The way ahead for this talented innovator is to find buyers who will buy his products and help him get a global patent and hopes that this article will enable him to reach out to just such an audience.