"It's a girl," they whispered,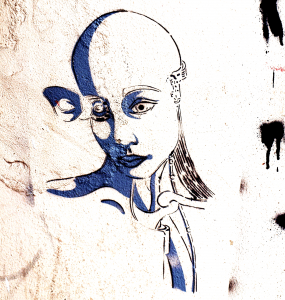 Their voices full of shock and shame.
Today the child was.
Tomorrow SHE wasn't.
FEMALE INFANTICIDE – We called it.
She was walking home all alone,
They fell upon her like a pack of dogs.
Physically battered and emotionally shattered,
Fighting between life and death SHE lay.
RAPE – We called it.
"Come with us, you'll be helped," they coaxed,
Their voices full of warmth and concern.
Selling her body was the only way she could live.
With dread and helplessness SHE woke to everyday.
SEX TRAFFICKING –– We called it.
SHE spoke her mind denying their order,
They realised that their respect was at stake.
Making amends they ended her life.
An example was set that way.
HONOUR KILLING – We called it.
"Bring us more," they commanded,
Their voices full of anger and hate.
After everything owned was ceded out,
SHE never saw another day.
DOWRY KILLING – We called it.
Art work: Joanna
For ages have we borne this treatment bestowed,
Ruthless are they in rendering it out.
Weak are we for not fighting back.
Who is GUILTY – They or WE?