Biodiversity conservation requires a new kind of approach – a collective approach that is inclusive and equitable in nature. Integrating effective public engagement in conservation action plans, thereby enhancing and enabling the engagement of different voices and views for the benefit of conservation is critical. Therefore it is vital for the conservation science community as well as the broader circle of conservation professionals to communicate the importance of biodiversity in a simplistic and engaging manner, because only when people understand and appreciate the value of biodiversity, will they be more likely to think about conservation.
Art has the ability to carry forward a torch that science cannot carry any further. ~ Susannah Sayler and Edward Morris
Art can be an effective form of communication, as it is deeply rooted in our way of life. Given that we belong to a country with a diverse culture, tradition and language, art has the ability to break the language barrier as a lot can be communicated without spoken words. Thus, art can be used to reach out to diverse audiences. The arts' ability to communicate in imaginative ways brings with it the potential of engaging the public's interest in issues that otherwise might not enter the general consciousness. Artists can translate the findings of the scientific community, which are usually in the form of data and can be mystifying to the greater public, into information that is comprehensible.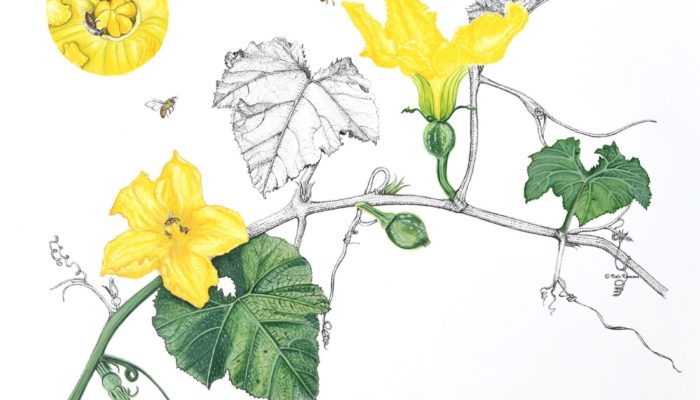 Artists have always been inspired by the beauty and mystery of nature and used elements from the natural world to produce paintings, sculpture, dance, music, literature, and poetry. 
Early human settlers managed to depict their life through art forms which gave us a glimpse into the kind of plants and animals they interacted with. Many kinds of wild animals are depicted in the Bhimbetka Caves of Madhya Pradesh, which are the earliest illustrative drawings found in India. The motifs on the stamps from the Indus Valley Civilization had representations of the natural world too. Depiction of flora and fauna can be seen in ancient temples which were used to either convey stories or as decorative elements. The miniature Ragamala paintings are a wonderful example of the intersections of painting, poetry, music and nature in Indian art. Indian folk art cannot be left behind in their representation of local biodiversity – whether it is the portrayal of weaver birds and their nests in a village scene in Warli art, fishes and turtles in Madhubani art, or stylized depictions of different kinds of antelopes in Gond art, indigenous communities documented the animals they coexisted with, through drawings, songs and stories.
Prior to the invention of the camera, visual artists played a crucial role in recording the flora and fauna of the Indian subcontinent through drawings and paintings thereby taking on the role of a scientist in natural history documentation. The Mughal ruler Jahangir commissioned artists to depict rare birds, animals and flowering plants. Ustad Mansur, an extremely talented artist in Jahangir's court, painted natural history miniature paintings, especially of birds, in utmost perfection and detail. Exploration and documentation of Indian biodiversity through scientific illustrations was undertaken extensively during British rule, painted both by English as well as Indian artists.
In modern times artists also play the role of recording environmental disasters, interpreting ecological facts into visual language, and, through artistic interventions, holding up a mirror to our challenged world. While several contemporary artists who are concerned about the state of the environment are expressing their thoughts through art, some artists go to the extent of acting upon resolving environmental issues, thus turning into conservationists. Art focused on the environment, which was once practiced by a small group of concerned individuals, is now gaining popularity in India too. The last decade has seen a steady rise in the number of artists exploring themes related to the environment in the country. Recent years have witnessed a remarkable increase in art-science collaborations.
Artists dealing with the environment today adopt a wide range of methods and media. While some may use paintings, photography, or film to document the effects of habitat loss or global warming, others use performance to communicate an ecological concept or our relationship with the environment, while yet others could be involved in bringing about environmental awareness through art-based teaching. A growing array of artists are adopting participatory and activist art practices and want to ensure their work achieves positive conservation and environmental outcomes.
Art, through engaging the senses, can be a unique catalyst in developing a 'sense of wonder' about nature.~ Jan van Boeckel
Throughout the history of humankind, art and education have been interrelated. Indeed, knowledge was often transmitted through art. Now, however, the two are completely dissociated in many educational systems of the world. When it comes to learning about the natural world, using art can work wonders. Art stimulates children to observe, think, feel, and become more sensitive while allowing them to use their senses amply – whether from actively observing and listening or engaging in tactile experiences. It opens up their mind to a vast canvas of ideas and vivid feelings and helps them retain ideas and information. Thus, various art forms – drawing, theatre, dance, music and poetry – can be used as means to help children feel a sense of wonder and connection to nature.
An attempt to include art in nature education is made by Early Bird, an initiative by the Education and Public Engagement Programme of Nature Conservation Foundation which envisions a world in which young people celebrate, understand and value nature, and are motivated to take responsibility as custodians of our planet. Early Bird aims to connect children to nature through birds and to achieve this, the small but enthusiastic team develops innovative, high-quality, open access and multilingual learning tools for beginner birders of all age groups. Early Bird resources are designed to help explore the rich birdlife of India, employing a range of techniques like games, creative activities, and science-based multi-media. The creative resources of Early Bird include interactive bird posters, activity sheets like 'Join the Dots', colouring pages and learning to draw birds in a few simple steps.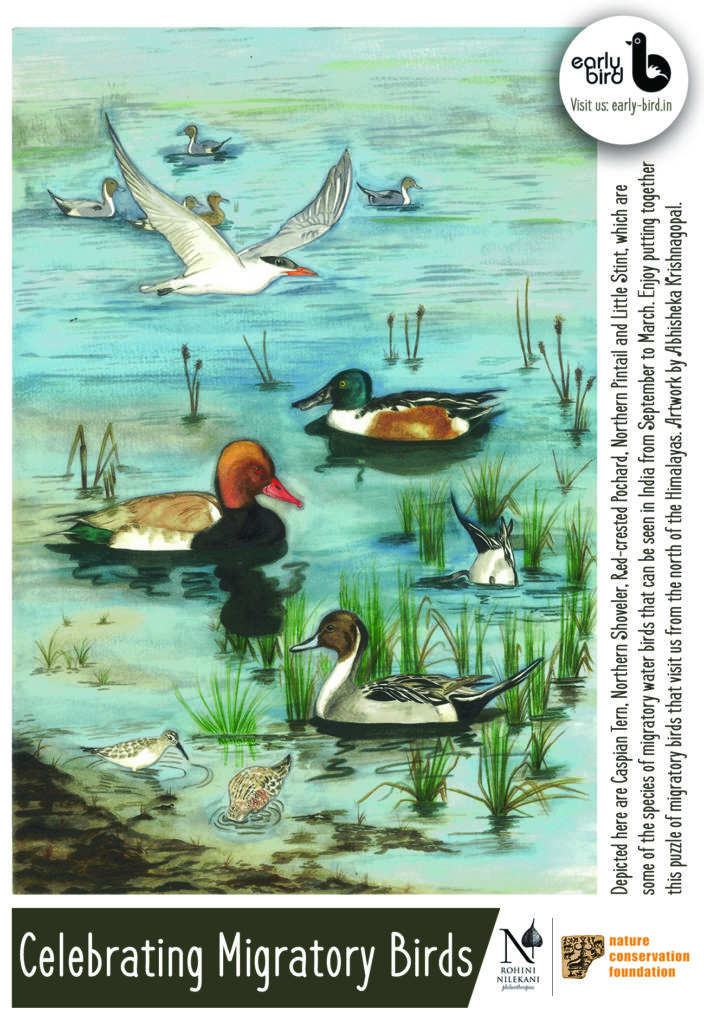 Recently 'Early Bird' published a Handbook for Bird Educators, which is a guide to inspire and equip educators – teachers, parents, birders, non-birders – with the information, tools and ideas to engage children about the wonder of birds. The illustrations in the handbook create an instant connection with the subject and bring focus to the importance of art-based learning for nature education. Apart from providing information about birds and instructions on conducting bird walks and talks, the book features more than sixty games and creative activities, giving the educator a wealth of ideas to explore and adapt for their use.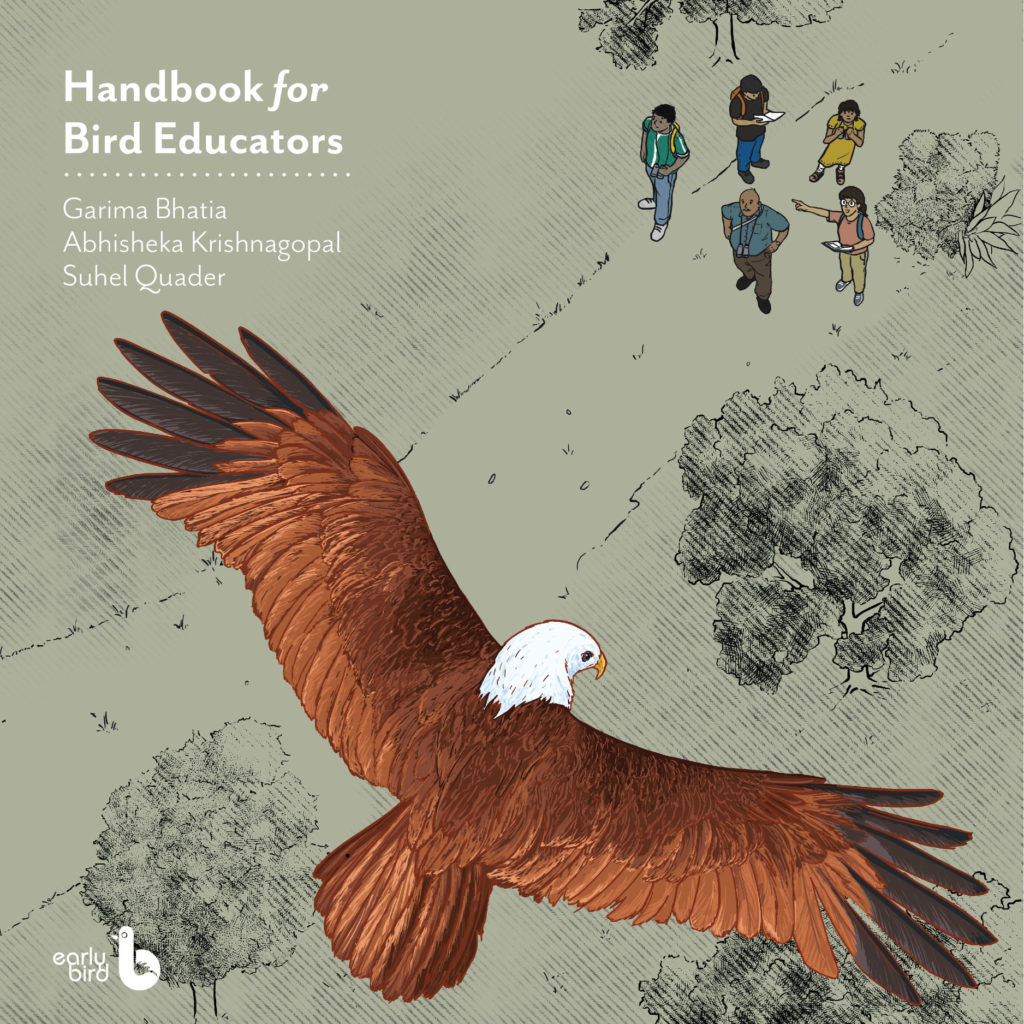 Similarly, renowned Botanical illustrator Hemlata Pradhan combines art, education and conservation to spread awareness about the Himalayan biodiversity. She initiated the Himalayan Trust for Natural History Art in Kalimpong, West Bengal through which she runs various hands-on workshops and classes in the field of Natural History Art for underprivileged children from the local villages around Kalimpong. The children are taught to make close observations of nature and document them in the form of sketches, paintings, words and maps using traditional techniques, methods and materials. This process has helped them not only to build their artistic skills but also to develop their confidence and generate an awareness about the biodiversity that abounds in the Himalayas.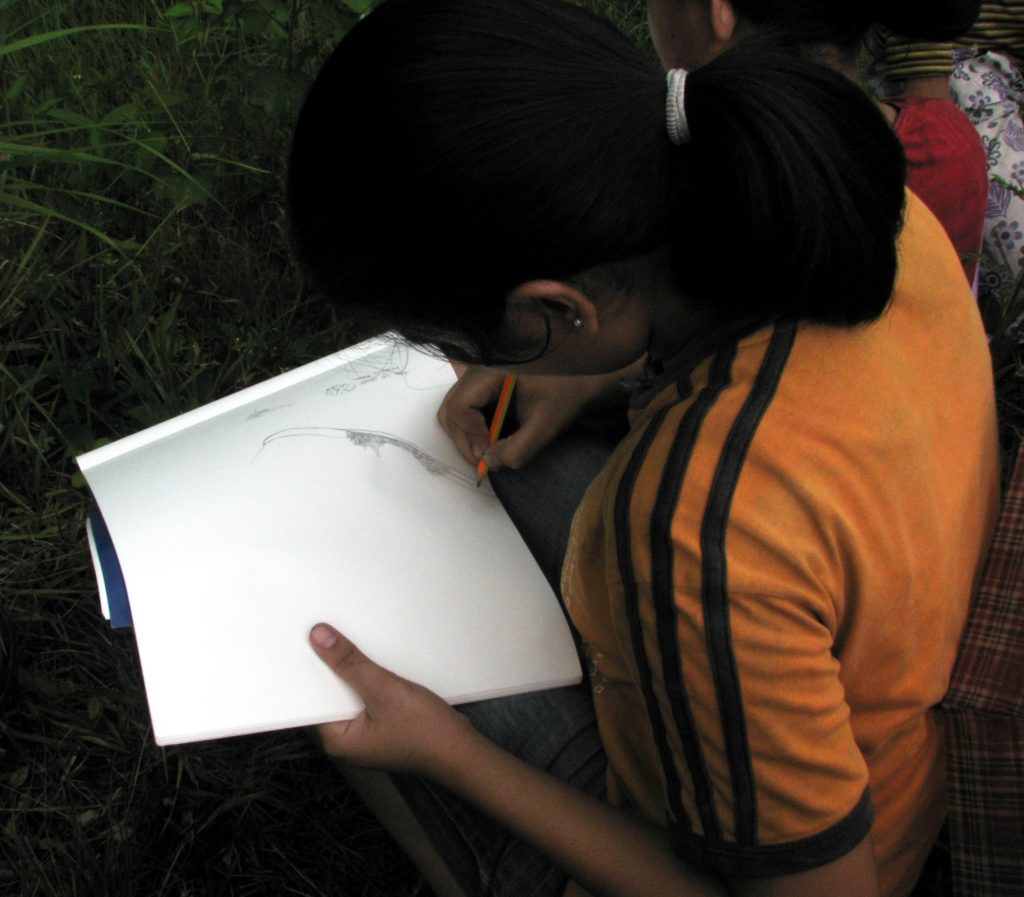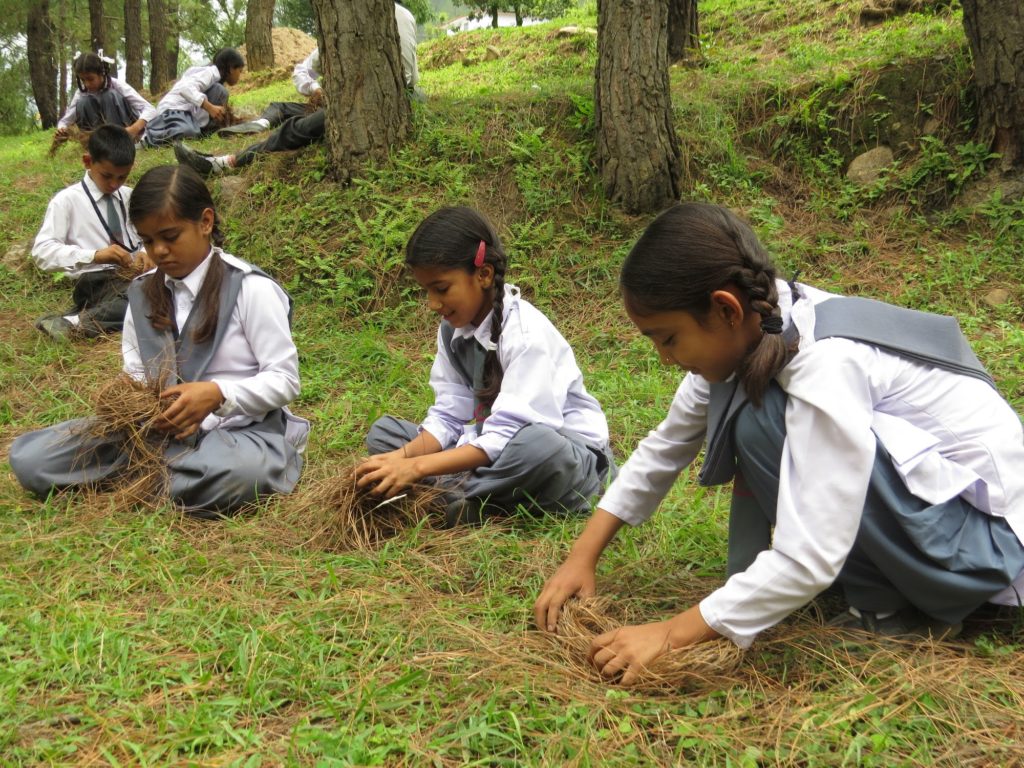 'How to be a Fig' was an attempt to weave ecology and performance together. Inspired by Mike Shanahan's book on figs titled "Ladders to Heaven", this movement piece was presented at a Conservation Science conference where the performers expressed the complex role that fig trees play in the ecosystem through the human body. By making arts accessible to scientists, it was made possible to communicate complex scientific concepts in a creative and engaging way.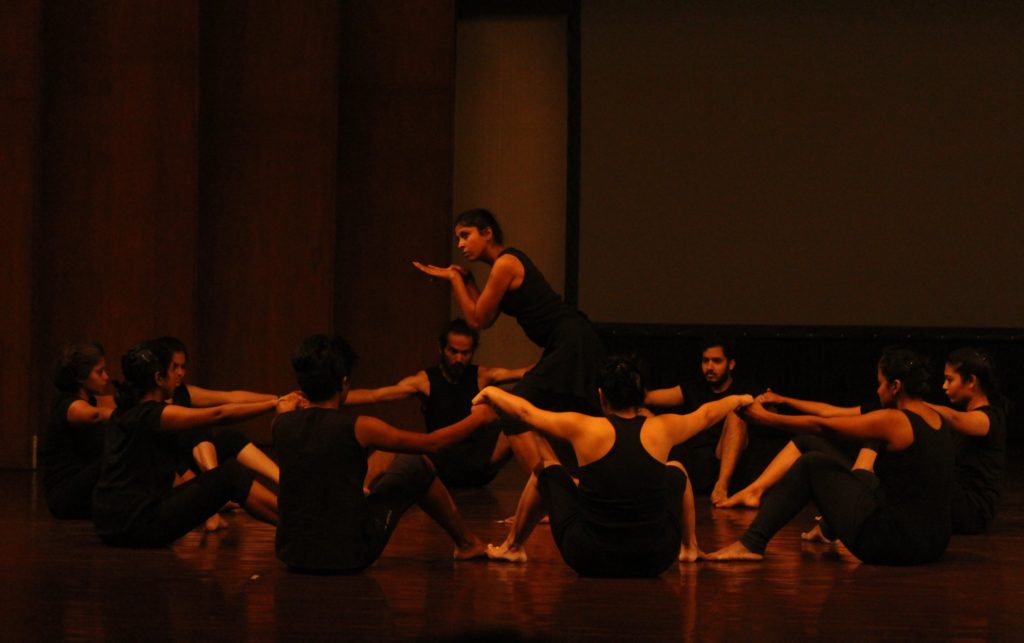 Art and environment have gone hand in hand at Pitchandikulam forest in Auroville, ever since its establishment in the '70s. Apart from being involved in ecological research, restoration, education, and community empowerment, representing local wildlife through imagery to generate an enthusiasm for the natural world and sensitize people have been their major interest. To a large extent, they have concentrated on outdoor wildlife art including painting on Kadapa stone slabs, stone sculpture, mural, mosaic art, etc. involving artists from the local communities.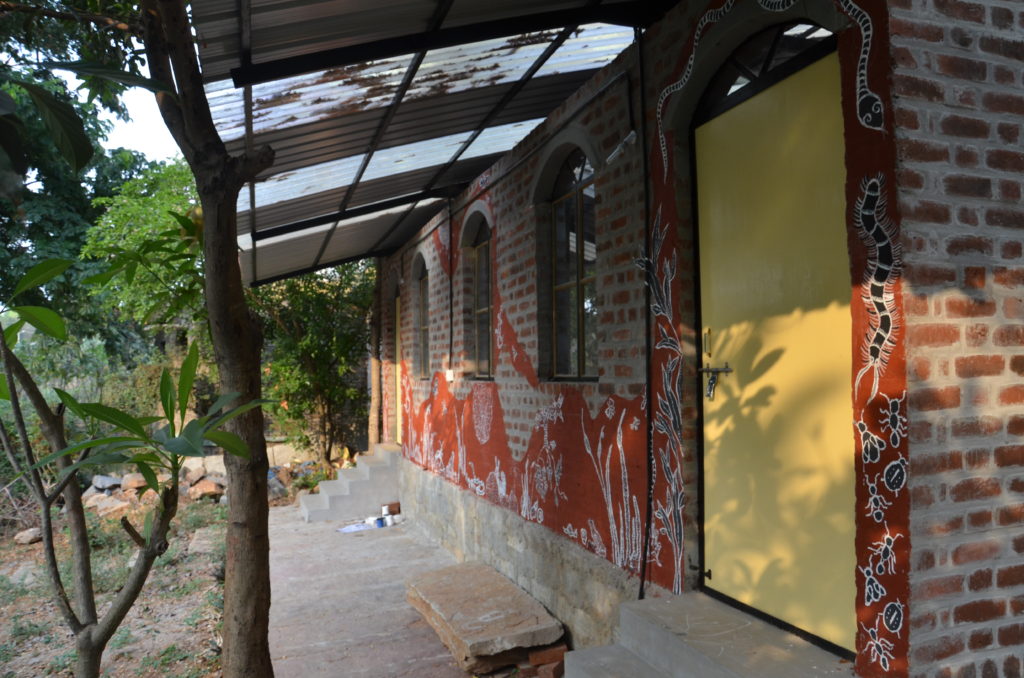 Green Hub is a unique fellowship programme in India where rural youth from the North-eastern states are trained in the visual medium of filmmaking for conservation. Started in 2014 by award-winning wildlife filmmaker Rita Banerji, the project engages and empowers Northeastern youth from rural areas and marginalized communities in conservation action and social change through films. Through the fellowship the youth acquire skills of video documentation and the power of communication which has given them the opportunity and ability to tell the stories of their villages and communities effectively. Many of them have gone back to their villages and kickstarted a dialogue in their communities to preserve and document their natural heritage and sustainable traditional practices. The Green Hub Fellowships have created a valuable platform for unheard stories to emerge, both to celebrate the natural and cultural wealth of the Northeast region, and to bring into focus the significance and vulnerability of the land and its people.
While these are just a handful of examples of using art for conservation in India, there are numerous individuals and groups in the country and around the world who are motivated to get people connected to nature through the medium of art. There are encouraging examples of the arts being linked with initiatives to foster ecologically sustainable development. A study conducted by David Curtis of the University of New England, Australia shows that the celebratory aspects of the visual and performing arts may be valuable in influencing environmental behaviour positively, at the individual and community level. That arts can aid engagement and participation by a broad cross-section of the community and can provide powerful vehicles for community mobilisation, empowerment, and information transfer. Art is also useful while working in unfamiliar landscapes as it can be used as a tool to initiate conversation with strangers, to gain trust and to disseminate the required information.
Conservation science is robust, the policy-making process is quite vigorous, the laws that we need to protect the environment are mostly in place, but there's something missing. It must simply be that as a society, we are not responding in the way that we need to the global ecological crisis. There is a need to define a new relationship with the rest of the natural world. It is not for an individual artist or a scientist to say what the new relationship should be. But people across disciplines who share concerns for the environment should become part of the conversation and that should become a much larger concept. Writers, artists, performers can help facilitate that conversation, which would help conservation professionals move forward in achieving success.
Latest posts by Abhisheka Krishnagopal
(see all)