Photograph sourced from freestocks.org
An attractive opportunity develops: About a decade ago, during an evening visit to the neighbourhood garden with her friends, my mother heard about a Vitamin E supplement that improved the quality of one's skin and hair. One of the elderly ladies in the group had been prescribed the tablet by her doctor. My mother and all the other ladies in that group ended up checking with their doctors and then taking the Vitamin E supplement too.
Around the same time, during visits to consumers' homes in Mumbai and Hyderabad, we'd noticed a similar link to the GP in consumption of vitamin supplements, cough-cold medication etc. Even if someone considered a product after seeing the ad or hearing about its efficacy from a friend, it would often enter the house after they had checked with a GP about its efficacy and safety. A doctor's prescription may not have been the trigger for purchasing a particular remedy for a minor ailment, but his stamp of approval on the product's efficacy was often sought before purchase and use. The doctors' role in purchase of medication for minor ailments was even higher if one took into account people who reused old prescriptions when a problem reoccurred.
The OTC landscape has rapidly evolved over the last few years though, and the self-medication habits of consumers have undergone a radical change. For many of us, checking for information about a brand or the remedy for a minor ailment via the internet is faster and more convenient than calling or visiting the doctor; in addition, the paucity of time, the low availability of GPs and the expense incurred when visiting them, all contribute towards the increase in self-medication. As this report from 2016 mentions, 41% of interviewed consumers reported self-medicating in 2016 vs. 23% in 2006, a significant increase, and a trend that is likely to continue. For pharma firms that have the appetite to invest in communication and distribution for an OTC medication, this presents an opportunity to participate in a sector expected to grow at a healthy pace in the future.
The OTC landscape has rapidly evolved over the last few years though, and the self-medication habits of consumers have undergone a radical change.
Charting a course for the future: Regulations being drafted that clarify the definition of OTC will aid in accelerating this growth by reducing confusion over which products can be advertised, how they can be sold etc. Until recently, the phrase 'Over The Counter' had no legal definition, the Drugs and Cosmetics Act defined drugs that could not be sold without a Doctor's prescription (those which were in schedule H, H1, X), and others were inferred to be OTC. In a welcome change, as suits a maturing market, the Central Drug Standards Control Organisation (CDSCO) is planning to frame regulations that define a category of over-the-counter medications. The regulatory change may also expand the list of categories considered OTC and include those such as anti-allergy, antipyretics, anti-emetics, decongestants, hormonal contraceptives etc., which will serve to further accelerate market growth.
Some analysts expect non-prescription business to contribute a solid 20 percent or more to the domestic revenues of Indian formulators over the next five years. According to Business Monitor International (BMI), India's non-prescription or OTC market contributes around 14.5 percent to total pharmaceutical sales and is expected to grow to USD 4.2 billion at a CAGR of 8.8 percent over a four year period from 2017 to 2022. The Nicholas Hall 2017 report estimates a slightly higher CAGR of 9% and expects the OTC market to reach USD 6.5 Bn by 2026.
Partly as a reaction to the attractive OTC opportunity that has emerged in the last decade, and partly in a bid to diversify their product portfolio when faced with a difficult regulatory environment for their pharmaceutical products, Indian pharma companies have launched a slew of OTC products recently. These have been in diverse segments such as vitamin and mineral supplements, gastrointestinal ailments, skin care, immunity etc. There have been Corcal Bone and Beauty and Softovac from LupinLife, ActivKids Immunoboostersfrom Cipla Health andAbzorb from Sun Pharma's Consumer Health division. Glenmark has announced plans to introduce two variants of antiperspirant powders under the Candid brand, while RPG Lifesciences, through a tie-up with an Italian firm, plans to sell anti-aging and hair growth cosmetology products, on prescription initially and then through the OTC route.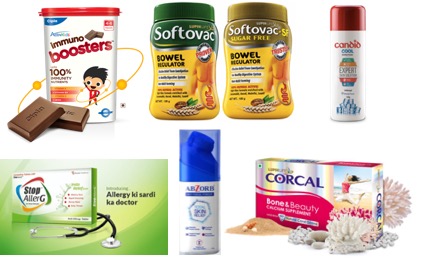 There are multiple strategies being adopted by firms, some of the new launches have been from firms that are switching existing Rx formulations to OTC and relaunching them, some have acquired heritage brands and are relaunching them, while others are building brands from the ground up. Piramal, for instance, has focussed on acquiring a whole host of heritage brands from multiple firms, and Sun pharma is leveraging the brands in the erstwhile Ranbaxy Consumer healthcare portfolio to build its growth story, while Cipla is switching their existing Rx formulations to OTC and building brands from scratch too.
Some analysts expect non-prescription business to contribute a solid 20 percent or more to the domestic revenues of Indian formulators over the next five years.
Challenges faced and solutions found – the Transformation: From our work with various OTC businesses over the years, we've found that pharma firms have a few critical challenges to overcome when they step into the OTC arena, in terms of both capability and mindset. One is to build organisational capability in the domain of consumer understanding, branding and communication, in lieu of the traditional dependence on communication to doctors and other HCPs. Another is to reorganise the sales system to reach more chemists and focus on servicing them effectively, rather than depending wholly on Doctor Prescriptions to generate demand; this effort demands a different type of distributor and requires retraining the sales team too. A critical factor for managing both these changes successfully is a willingness to invest, as well as to unlearn the habits that led to success in the past and to learn to do things differently.
As self-medication rates rise and the OTC business begins to resemble the consumer goods sector, knowing the consumer will be imperative for devising effective brand strategies.
As self-medication rates rise and the OTC business begins to resemble the consumer goods sector, knowing the consumer will be imperative for devising effective brand strategies. Extensions to existing brands need to be thought through carefully and not planned based on formulations available for switching alone; the decision-making parameters should include a consideration of what the consumer recognises as the key brand promise and which categories this could stretch to. Then the brand needs to give a consistent and compelling message across all consumer touch-points, beginning with packaging, communication through traditional media, digital and social media, and at the point of purchase. This requires an investment appetite as the quantum of spends on DTC (direct-to-consumer) communications will increase by several orders of magnitude; it also requires an openness to learn and modify existing marketing processes, techniques and tools that currently cater only to a TG of Doctors and other Healthcare Professionals.
During this transition, it is essential that an OTC brand guards against losing all connect with the physician and obtains his endorsement and support even while communicating directly with his patients, not an easy balancing act to pull off. The OTC team either has to set up their own detailing team, or manage with the reduced focus of the Rx detailing team, or think of innovative ways of keeping the link to the doctor alive. Heritage Rx brands that have been switched to OTC have the advantage of years of doctor prescriptions behind them, and the firms that own them find it slightly easier to maintain the Dr. connect and ensure endorsement, if not prescription, through their detailing team. Another approach is the 'rainbow marketing' or 'co-promotion' strategy,  with one formulation being switched to OTC and offered to consumers and another – typically one with higher efficacy – formulation remaining Rx, thus maintaining doctor loyalty towards the brand.
Another challenge relates to distribution at chemist outlets. The pharma distribution channel is structured such that it is dependent on pharma wholesalers for reach, and quality of coverage at chemist outlets is not focussed on. However, once a brand is OTC, prescriptions from doctors reduce and hence simply replenishing the chemist's supply when he runs out of stock is not sufficient; there now needs to be a focus on scientific stock planning, visibility, merchandising, range selling etc. Hence, there may be a need for training the sales team, or hiring sales professionals with past OTC or consumer goods experience, and finding new channel partners focussed on the OTC business. As usage of online pharmacies such as Netmeds, Healthkart etc. increases, an ability to manage the e-commerce channel efficiently will become important too.
Since succeeding in OTC categories is not just a question of investments, but a veritable transformation in organisational mindset and operations, many pharma firms have launched a separate consumer products division and staffed it with a mix of professionals from pharma and consumer goods sectors. A few firms have even spun out the OTC unit as a separate business. Zydus Cadila has had a separate company in Zydus Wellness to tap the OTC opportunity for some time, Cipla moved its consumer healthcare business into a separate unit backed by PE firm Eight Roads Ventures in '16, and earlier this year, Lupin launched a new division – Lupin Life Consumer Healthcare. These changes indicate a renewed focus on OTC as a lever for growth and recognition that key success factors in the OTC arena are significantly different from those in the pharma world.
The OTC-focussed firms seem gung-ho about the opportunity and have set tough targets for themselves; as per news reports, Piramal Enterprises' OTC division – an early entrant to this arena, is aiming at reaching Rs. 1,000 cr by 2020; Lupin – a relatively recent entrant to the OTC sector, is aiming for Rs. 300 cr annual revenue in the next 5 years; while Cipla has declared plans of aiming to build five Rs. 100 cr brands in the next few years. If all goes as per plan, I'm sure that the next few years will see multiple blockbuster brands emerging from these firms, and that will encourage other firms to invest seriously in the OTC market too.

Latest posts by Zenobia Driver
(see all)