India is the fourth largest automobile market in the world, with about 200 million on-road vehicles. By 2030, an additional 400 million customers will need mobility solutions. Everyday traffic is joined by new cars, running on expensive imported fuel and cluttering already overcrowded cities, which suffer from infrastructure bottlenecks and intense air pollution. This situation demands a transportation revolution in the country and electric mobility will be at the centre of it.
Electric mobility is attractive for a number of reasons:
Reduction of oil imports: India is the third largest importer of crude oil in the world. Over 40% of the imported crude oil is used in the transportation sector. A shift to electric vehicles would reduce our dependence on oil imports.
Emissions control: India is the third largest emitter of CO2. With the economy and population growth, overall emissions are bound to grow. Timely increase in electric vehicles on roads would allow keeping the emissions in check.
Technological and strategic advantage: The transition to electric vehicles presents an opportunity for Indian manufacturers to leapfrog to the technological forefront of the automobile industry. Moreover, it is a sound industrial strategy to be in the vanguard of this transition and support Indian manufacturing through a strong electric vehicle home market.
"Going Electric" is a team effort. It requires governmental vision and goals (backed by legal and financial incentives), innovation from industry educational institutions, startups (from battery technologies to mobility models), push from automobile manufacturers to design affordable cars optimized for electric driving and large-scale investment into charging infrastructure. This global phenomenon of shift to electric mobility has also affected the world of student car racing competitions. Across the globe, university teams started shifting from internal combustion engines to the electric vehicle segment, around 2012. Same year, car racing team of IIT Bombay, IIT Bombay Racing, decided to build electric race cars and became the first Indian team to do so.
IIT Bombay Racing
IIT Bombay Racing is a team of about 80 passionate engineering students, who build life-size electric race cars and compete at Formula Student UK (FSUK), Silverstone every year. At FSUK, teams from all over the world compete in the areas of engineering design, cost, marketability and dynamic performance of their cars. IIT Bombay Racing team students gain hands-on practical experience while applying the engineering principles from the classrooms. In addition, students learn to work in teams and manage complex tasks which prepare them for the "real-world". The vision of IIT Bombay Racing team is "Revolutionising Electric Mobility in India, focusing on Sustainable Technologies and Innovation".
The racing team at IIT Bombay is an excellent platform for aspiring students to live their automotive passion. The team aims to inspire and prepare IIT Bombay students for the automotive sector. Another goal of the team is to boost the electric vehicle sector by developing technologies and play a pivotal role in the "Going Electric" drive. The IIT Bombay Racing team is building its 7th electric vehicle for FSUK-2019. The alumni from IIT Bombay Racing team are making a mark in the electric mobility sector, by working for companies like Tesla, Waymo, Apple, Ather Energy and Carsense. One of the alumni of the IIT Bombay Racing team founded Formula Bharat, a national level student car racing competition, taking electric mobility to the grassroots level of India.
Car Design
Approach: The team's vision and previous years' experience dictate the overall mission at the beginning of each academic year. The targets are established for static and dynamic events of the competition. Next the system design and technical requirements are laid out. Based on these requirements, innovations and organizational improvements are compiled. The innovations and research goals determine the budget requirements. Based on the availability of the budget, the roadmap for the year's car is finalized.
Process: The team starts with a concept phase, where proposed design improvements are studied and their impact on the car's performance is evaluated. This is followed by a design phase, where models of components, sub-systems and systems are developed and analysed. Upon completion of the design, components and assemblies are fabricated. For ensuring reliability, components and assemblies are tested rigorously, at individual as well as full-integration level.
Specifications of EVoX
Acceleration: 0-100 kmph( gap ) in 2.88 sec
Top Speed: 160 kmph
Kerb Weight: 230kg
Turning Radius: 4.05m
Milestones Reached
IIT Bombay Racing team has been receiving the Formula Student Award consecutively from( gap ) last 5 years. Formula Student Award is given to 8 out of 100+ teams, who show exceptional growth over the last year. In the year 2018, the team stood 1st in Business Presentation and 2nd in Engineering Design categories at Formula Bharat. The team has always stood out for technical innovation and pushes the students to think out of the box. Some milestones that the team is proud of are:
In-house Electronic Differential, 2013: First Indian team to develop and implement an in-house Electronic Differential, which determines( gap) the torque for the two motors powering the rear wheels.
Monocoque chassis, 2015: First Indian team to build a monocoque chassis out of Aluminium honeycomb structure for maximum torsional rigidity.
In-house Carbon Fibre Bodyworks, 2016: First Indian team to develop and implement in-house Carbon Fibre bodyworks.
CAN communication, 2018: The only Indian team to implement CAN communication, which is the automotive grade communication protocol between the sensors and the electronic control unit.
In-house active Battery Management System, 2018: The only Indian team to develop and implement in-house active Battery Management System, which monitors and regulates the voltages of all the cells in the battery pack.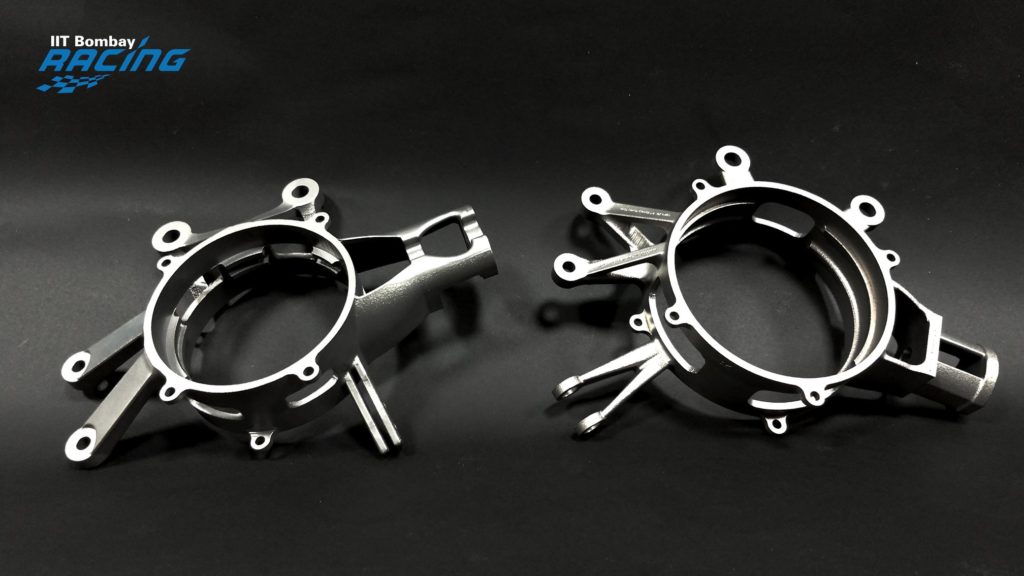 3D printed Titanium uprights, 2018: Designed and manufactured 3D printed Titanium uprights,( gap) an automotive load bearing component. This was achieved in collaboration with Wipro-3D.
Latest posts by Amber Shrivastava
(see all)