Jimy Uranwala and Sapnon Ki Rani
I could hardly believe my ears when I heard someone in my hostel wing strumming his guitar and practising singing "Mere Sapnon ki Rani, kab aayegi tu," that popular song from the movie Aradhana. We were familiar with Jimy's repertoire of English pop songs but Hindi songs were not his cup of tea. We all gathered near his room to hear him practice and he told us he will be singing this song at the campus festival.
This reminds me of the time we were taking part in a NCC parade opposite the Main Building. Jimy wore his hair long in keeping with the style adopted by pop music singers of that era.
During the inspection, Prof Rao (aka Billa Rao ) told Jimy he would not be allowed to join the parade if he did not shorten his locks. The rest of us started a chorus of Beat Group, Sir, Beat Group. To which Billa Rao's response was I don't care if he is B Group or A group, such long hair is not permissible in NCC.
Bawa Gang and Debates
This group of Parsi students from the 1970 and 71 batches were well known for their intense post-prandial debates on a wide range of topics including "propah" use of the English language. The most vociferous arguments one night were on the correct pronunciation of the word "either". I don't know if they felt that elevated levels would aid them in arriving at the right conclusion but the gang walked up the   hill behind H3-H4 after midnight, continuing their loud arguments in a state of much excitement and the joke next morning was they concluded that the word can be pronounced either way.
The Bawas were also notorious for hogging the sole telephone box at H4. Long conversations with their mother detailing what they had for breakfast, lunch and dinner etc.  Generally, whenever we saw a Bawa at the H4 phone, we would leave and come later to make our call.
Dhobi Incident
This is an incident best forgotten. I recall some of us from the last wing flashing their torches on the dhobi's shack to ascertain the identity of certain nocturnal visitors and this was accompanied by much shouting and catcalls and name calling etc.
The Dhobi complained to the Hostel Warden about the behaviour of the students and some of us were hauled up by the Warden for a dressing down. Apologies were in order and were sheepishly given. I remember our wing mate Tony getting a clean chit since he did not participate in our group activity that night. The Dhobi would always praise Tony calling him Tunny Saab!!
Shouting "Mochie Mochie!!"
This was the cry of despair and distress particularly after attempting an extremely tough question paper in the end Sem exams. Electrical Fields was one such subject which evoked the maximum such outbursts.
The cobbler who worked from the small alcove beneath the 2nd wing ( now known as Central Wing) staircase was easily the most hardworking person in the entire hostel.
He did brisk business mending our footwear and his clientele extended beyond H4.
Walking up the Hill after Last Show at  Metro Theatre in Dhobi Talao.
After the last movie show in town, we took the train to Vikhroli and then a bus to the Telephone Exchange on LBS Marg. No buses at that time to the campus, so we would walk up the hill, our chatting and joking keeping us from falling asleep.
On one such trip, our resident joker asked an old cabbie outside Metro Theatre past midnight.
"Powai jaogey?"
"Hanhji zaroor," came the instant reply from a happy cabbie.
"Toh jao, yahan kyon khada hai?"
To which the cabbie replied, "Achha toh hum chalte  hain," singing like the heroine of some Hindi movie.
Whether this was a joke or a fact is still not clear to me.
Of Partitions and Friends
When I was in room 210 in the first year, my good friends a few of whom did not go home during certain weekends, would jump over the partition from Room 209, and help themselves to Orange Squash from my cupboard and add water to the concentrate in order to maintain the original level in the bottle.
Eventually, I realised what was happening and my then room partner Ranjit admitted he did let my wing mates jump over the partition into my room over the weekend.
All in good fun. After all, what's a little Squash between friends!!!
(It's a good thing my first-year room partner did not have his name shortened to Ranju – otherwise there would have been confusion.)
**********
This jumping over the partition had its downside too. One of our batchmates was finally caught stealing money and other stuff from his room partner– He got bolder and also stole from his next-door neighbour by entering his room through the window which we rarely secured. He was caught and transferred to another wing.
Rajan Malkani
One can never forget this senior in our wing who pretty much kept to himself hardly mingling with his wing mates except to frequently ask, "Have you got an empty matchbox yaar?" I can never forget his slow Texan drawl.
Pat Sengupta
Which reminds me. Pat Sengupta, one year our junior, and other friends of Keshav, yelling from the corridor "Q, got some hair oil, yaar?"
No one is revealing the secret behind this. Will remain a mystery forever? Sometimes, it is better that way, perhaps!!

Of Pickles, Daal and Chemistry
Ponds and Ranju (hey, that's me!! ) were popular at dinner time for the home made pickles they brought to the D Mess. We would always make light jokes on some of the sabjis and I recall one particular yellow daal ( or was it kadhi? ) which was christened 5890 Angstrom. This was done just after we returned from a Chemistry class where we had learned that the two close prominent lines in the yellow region of the spectrum of neutral sodium have wavelengths of approx. 5890 Å and 5896 Å.
Techies will be techies!!
Ponds
Ponds (aka B P Rao), my room partner from 1968-71 at H4, joined Hindustan Aeronautics Ltd. in Bangalore after completing his B.Tech in 71 and MTech ( Aero ) in 1973. He was responsible for the major tasks of design and flight testing of India's first indigenously made helicopter – the Advanced Light Helicopter (ALH) and Chief designer cum program manager for India's first military helicopter – the Light Combat Helicopter ( LCH ). After retirement from HAL, he continued to associate with helicopter design and aeronautics. I always felt he deserved a Padma award for his service to the nation.
I recall Ponds spending hours each day, after class, at the IIT workshop to do precision machining of a circumferential compressor for his B.Tech project ( which is used nowadays in fans for air curtains and coolers ). He had a fine eye for detail and a passion for adherence to accuracy of dimensions of various parts. In fact, he started making aircraft models even prior to joining IIT. Pictured here is a model of the MIG 21 jet fighter made by him in 1965 using aluminium sheet metal.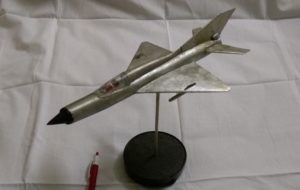 ********
Late one Sunday evening, while returning to the hostel from his Khar home, Ponds was asked by the cabdriver which branch of engineering he was studying. The cab driver had retired after a short service commission in the Indian Air Force and although he had held a clerical post, he displayed good knowledge of various fighter aircraft and could answer queries from Ponds on these aircraft types. Ponds was thrilled no end and continued to gush about this cabbie the whole of that week!!
While we enjoyed reading novels and adult literature, Ponds got his kicks from his favourite "Jane's All the World's Aircraft" which was the "Bible" for aircraft lovers.
******
Ponds, Keshav and a few others had a small group of pals who would hang around Linking Road in Khar West near their home during the holidays or on weekends. One such evening, some of his non-IIT friends introduced Ponds to a group of college girls as a budding Aeronautical Engineer from IIT. There was this sweet young girl who was quite impressed with Ponds and asked him what he was doing nowadays. Since yesterday I am doing Chapter 18 of Irving Shames, said Ponds with a lot of confidence (that was our textbook for Applied Mechanics and it was his favourite subject – he told me some time back that he was glad he studied this subject since it was most useful for him for helicopter dynamics).
******
One of the habits of Ponds I can never forget is his extreme caution on security matters. He would check and double check the Nav Taal lock while locking his door and then would shout to me from the hostel corridor – Ranju, please check, have I locked the door properly??
Swimming in Vihar Lake
The proximity of H4 to Vihar Lake across the pipeline made it easy for us to spend our leisure time in what was known to be crocodile infested waters. One also had to lookout for police patrol boats who had their regular beats to catch swimmers since swimming was not allowed in Vihar Lake. Though my wing mates Madhu Assar and Dilip Gheewala tried their best to teach me swimming I could never learn to swim. I recall those wonderful days as I walk in the swimming pool at my housing complex each morning, six days a week.
This also reminds me of the voluntary service we undergrads undertook to dig for a swimming pool behind the Convo Hall. That pool never came up in that location.
Prof S.K. Gupta and his Russian Wife
Easily the prettiest woman on campus. This Metallurgy Professor was greatly sought-after Chief Guest for Hostel dinners and events. Very popular with students all of whom wanted to meet her and have a close look.
Prank Call
The Public Call Office outside the campus Post Office was always crowded after dusk. It was in a secluded spot and amenable for making prank calls after the Post Office downed its shutters. One particular number called from this PCO was most popular. Someone had scribbled the telephone number on the wall above the PCO with the name Rani (who was allegedly a call girl ) and the incorrigible IITian's idea of fun was calling that number, asking for Rani and hearing a volley of abuses from her or her companion!!
Tickler for Hostel PCOs
The inventive IITian was known for creative methods of cost reduction. We had a tickler ( a piece of steel wire with a hook at one end ) which was introduced into the phone instrument and used to depress the lever as soon as the call was answered. This lever performed the function of the coin to be inserted. Almost everyone was into this and enjoyed making free calls. But all good things come to an end. One day Mr Muthanna, the General Manager of Bombay Telephones, was quite upset that he could not contact his son Ashok ( one year junior to us ) on the PCO. His staff told him the line is continuously busy. Since the matter was urgent, he rushed to H4 to meet his son and saw for himself our friends using the tickler.
End of story!!
Hobbies Club
I enrolled as a member in my first year on campus (1966 ). One of the advantages was I could do my own developing and printing of film rolls. While I avoided making negatives and got my film rolls developed at a studio, I used the Club facilities to print the   photographs on bromide paper. Being a fresher, I was always given the last slot and would start my work after 10 pm. Walking across the dense shrubbery in the dark, crossing the football field and walking back via the Gymkhana main entrance, sometimes as late as 1 am after completing my work   was a matter of concern for my room partner Ponds who always feared there are snakes in that tall grass near the Hobbies Club.
Rejoinder from Vasant Kale (Chem, H4)
Regarding your anecdote on the Hobbies Club, I would say that there were snakes in the grass in the large sports ground. I had stepped on one on the way back from morning PT. I did not stop to see what it was like.
Prof N R Kamath (known as NRK )
Two anecdotes regarding NRK close to my heart are given below:
Other than his role as a Professor, Administrator and Guru, I am indeed indebted to NRK on a personal level. My father expired suddenly of heart failure in early Sept 1968 when I was just a few weeks into my 3rd year at IIT. Two of my uncles visited NRK's house at Kabbur Building in Sion East to inform him of our family's dire straits due to losing the sole breadwinner and difficulty in meeting expenses of school and college going children and the possibility of my having to abandon my studies since I was the eldest of 3 children. NRK assured them of support and ensured that I was given a Merit-cum-Means scholarship which greatly helped me complete my B Tech Course in Chemical Engineering. In 1971, NRK was also responsible for helping me get my first job. I am eternally grateful to him for all that he has done for me.
This took place sometime in Dec 1971, during the Indo-Pak war. NRK and I walked through the corridor from the Chemical Engineering Department to the Main Building, with NRK giving me his take on the outcome of the War. He was at that time deputising for Prof Kelkar, then Director at IIT Bombay who was away. When we entered the Diro's chambers, NRK took a seat on one of the visitor's chairs. I was surprised and took a seat in another chair next to him. Sensing my confusion, he said "I am only the Officiating Director, I do not consider it appropriate to sit in his Chair".
Cack Sessions
Our adda was generally at the landing on the top of the stairs on the second floor of 3rd Wing of H4 (now known as North Wing) which separates the two sections of the Wing. But on many occasions, my room (No. 226, third year onwards) was also used as the adda for cack sessions. Friends would drop in to ogle the models in my Playboy calendar or the pictures of film actresses (Raquel Welch, Sophia Loren, Sharon Tate and other celebrities of the 60s) pasted on the inside of the cupboard door. On the outside of the door, I had pasted pictures of the latest car models from the USA.
When we 1971ers checked in at H4 early July 1966, there were more than 120 of us freshers who were allocated rooms in this hostel of 252 rooms capacity. This large population of freshers led to hardly any ragging. In fact, the much-feared Bedekar gang of H5, known to be master raggers, made hardly any attempt to enter our hostel for ragging sessions. Yes, there were stray instances when freshies were encountered in the corridor and elsewhere but each night for the first few weeks, a large group of us freshers would gather in one of the rooms which dissuaded the seniors from any serious ragging attempts. Strategy was to outnumber the adversary. In fact, I recall one of our classmates, a deeply religious guy, would respond to questions from potential raggers by talking about Jesus Christ and Godliness and the spirit of brotherhood and spirituality of mankind and so on and you should have seen the speed at which the seniors beat a retreat.
Bedekar, for all that reputation of a tough guy image turned out to be a nice guy. I used to visit him in H5 once a year – he was the agent for Life Magazine and I took an annual subscription through him.
Mess Workers
For most of us in D Mess at H4, Shantaram was the most popular and favourite mess worker.  He recognised me when I visited H4 several years later. It's good to know that there is now a  Hostel Alumni Team Stewardship programme (HATS) which is an important alumni-driven initiative that aims to channel the affinity and affection that many alumni have for their Hostels. I hope the Class of 71 alumni have also contributed to this programme.
YC Mehta's Diary
On 2nd July 2016, some of us 1971ers with spouses got together at the Powai campus, followed by dinner at Hotel Marriott and overnight stay, to celebrate 50 years of joining IITB. In addition to Mumbaikars, there were alumni from Ahmedabad, Bangalore, Bharuch, Canada, Jaipur, Pune and Vadodara.
We had a grand tour of the campus and were most impressed with the Tinkerers' Lab. After lunch at VMCC, the Diro, Dean ACR and other professors/retired professors spoke to us. During the interactive session, my classmate YC Mehta who had travelled from Canada to be with us on this important day read out excerpts from his 1966 diary including the cab fare of Rs 6.65 paid by him on 2nd July 1966 to travel from his Kandivali home to the campus.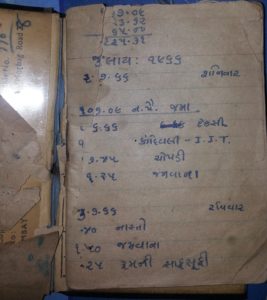 Motion Picture Shooting at IIT
During our early days at the campus, I recall our H4 wingmates going on a cycle ride on the main road outside the campus.This road was known for its scenic beauty with a forest on one side and Powai Lake on the other. We were stopped near the "Bhoot Bangla" by some guys saying a movie is being shot ahead. We saw the film actors Sanjay Khan and Mala Sinha in an open jeep. Mahesh Bhuta said come on yaar, let's proceed, they can't stop us, let us get ourselves into the frame in the background. We stayed back but Mahesh tried to cycle ahead and some toughies stood right in the middle of the road and that was the end of his ambition to play a bit role in the movie.
Party Chatter
Heard at the table where spouses of 1971ers were enjoying their gappa session at one of our annual reunions a few years back. This was just after the debate on the topic "Marrying an IITian: Millstone or Milestone?" had concluded. We men got a good bashing, all in good humour, and the men were the ones who laughed the most. Good to know the real you through the eyes of your spouses.
First lady: I am happy I married an IITian. But some of these IITians are real crazy, yaar.
Second lady: Didn't someone say that you have got to be a bit crazy to be a genius??
Third lady: True. I give them full marks for imagination and creativity.