Nitin and Mrigakshi founded Catterfly in Switzerland in 2016 after spending decades in corporate life. Their story is not different from most in the lower/middle class who are fortunate enough to work hard, get opportunities, and acquire several privileges along the way. Catterfly delivers curated and personalized travel experiences that are unique to a destination and a culture based on local presence and expertise in several countries. It is backed by a comprehensive and personalized mobile and web platform that brings together experiences, experts, customers, and organic ways to curate travel experiences live-wire.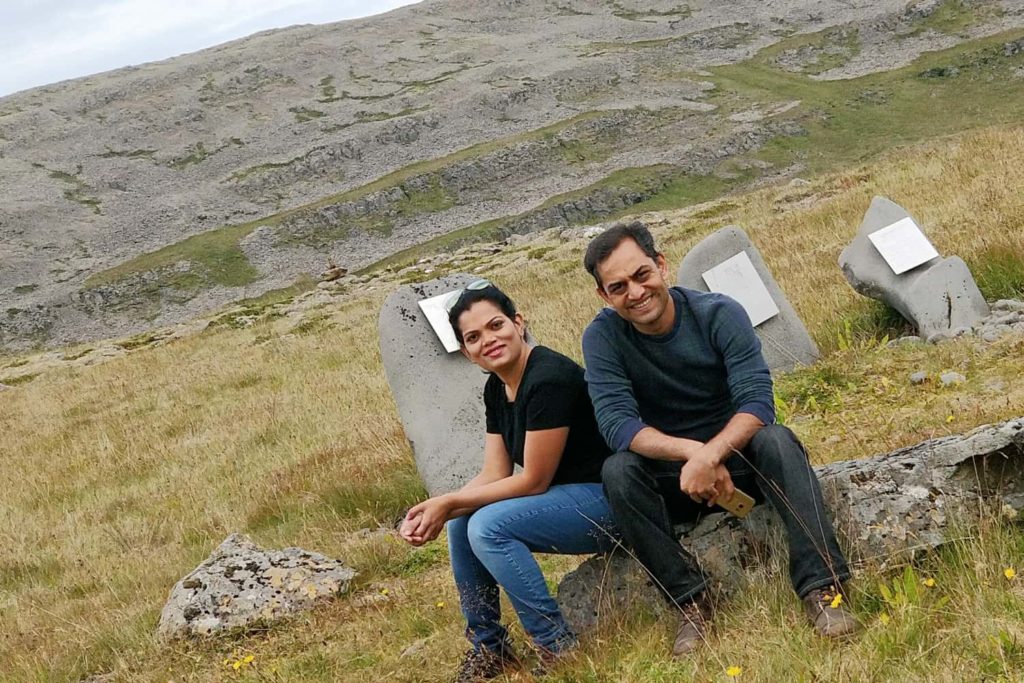 Nitin and Mrigakshi believe travel can often be life-changing. It starts with the willingness to stretch ourselves, let go of preconceived notions, and absorb the unique flavors of a new destination.
February 22nd, 2020. Nitin got back to Switzerland after two weeks-meeting travelers, industry partners asking for white labeling access to Catterfly Digital Platform, and an excited bunch in the newly opened Catterfly India office. While traveling, he kept calling Mrigakshi about the rapid progress that they were making. Back home, Mrigakshi was working with Catterfly destination experts and delivery team to plan for upcoming trips that travelers booked with Catterfly in different countries. Mrigakshi and her team made sure everything is at the traveler's fingertips with Catterfly mobile app as a personalized travel plan. After all, real travel is not about tick box tourism, but experiencing the sound, flavors, and scent of a place; sometimes getting lost purposefully in off-track alleys, talking to locals, and sharing a cup of coffee or a wine in the roadside café.
Same weekend, COVID erupted like a wildfire in Northern Italy and with medical crisis all over, all travel within Europe STOPPED. Nitin and Mrigakshi realized that being in denial will only make situation worse, as travel industry will probably be the last to recover. A carefully built business was crumbling down every day with trip cancellations, exorbitant refunds, managing customer frustrations, no new sources of revenues, a lingering uncertainty, and unending questions. Catterfly tried to minimize losses for everyone (travelers, partners, experts, et al) losing their hard-earned money, jobs, and future sources of income. Alongside, they had to think of creating alternatives as no recovery was in sight and 'new normal' was like chasing a mirage.
In such existential moments it helps to stay rooted, maybe dissolve oneself and, albeit painful, to re-emerge stronger and colorful — like a caterpillar turns into a butterfly. This was Catterfly's philosophy based on real-life journeys, and maybe it was time for Catterfly to go through the metamorphosis once again. In the past, it was more organic as Nitin and Mrigakshi accumulated life experiences while living across countries and curated this process for others. Now, it was time to apply these principles on their own creation "Catterfly"–and that probably is a #Pivot.
In practical terms it was about sustenance during the crisis, accepting the insecurities or fears while reinventing in a way that may differ completely from the past. Catterfly had to confront the brutal facts of zero revenues, traveler refunds, and fixed costs with monthly wage bills. They had to experiment in an unpredictable environment, but when a situation unfolded at such a rapid pace, the only option is to try, fail, and learn, but soon enough to be in the flow every moment. It was not about charismatic heroism; that is best left for storybooks, and in crisis, it is the unsung heroes in the trenches who empathetically take people along.
An impromptu chat with a friend helped further to find the grounding, who casually mentioned "You chose this life, and such phases will be plenty. So, assess your inventory, how long cashflows can last, and find ways to monetize your basic source of value to cover the fixed costs". All basics, indeed! For Catterfly, the inventory, as well as a source of value, is deep local expertise, not just about a country, but also about its history, art, culture, and unique stories. Travelers soak it in differently with Catterfly personalized and curated approach when they travel to that country.
As COVID restricted the physical movement, Catterfly launched hyper-local activities where it had physical footprints and team ready to take people along as local guides. Though with complete lockdown, everyone was stranded at home and it was no more fun standing in the city center waiting for people to turn up. With everyone stranded at home, the only way to bring these unique experiences to people was through digital channels. This new idea itself was an antithesis of travel and meant a shift from delivering 'travel experiences' to 'experiences that travel brings' but consumed remotely.
Catterfly was not sure if anyone would accept such radical shifts and if they could commercialize it, but failure is better than not trying. The first such idea was to conduct 'live and interactive digital workshops on heritage arts of India' managed by native artists who are practicing it for generations. Initial cycles were not smooth as the artists were not adept at technology, communication, or even the methods for teaching their art; folk and tribal arts rely on inter-generational transfer of knowledge and mostly not documented. It was obvious to Catterfly team that along with artists they need to conduct rapid pilots, and define a process for curating, teaching, and moderating these workshops. In hindsight, soon enough Catterfly team and native artists were conducting daily workshops on different arts and specific themes for participants from India and abroad, 8-year-old excited kids and 80-year-old- art connoisseurs, cancer patients and cancer doctors, homemakers, and office goers. Participants suggested it is therapeutic, meditative, relaxing, and they can develop their own masterpieces while learning about unique art and cultures; something that was never considered possible without traveling. Catterfly could help native artists to generate their income with dignity, especially when their economic sustenance was at risk. Within a few months, Catterfly launched several variants with a subscription model for kids and regular participants, weekend special workshops, employee engagement exercises for corporates, live events of performance arts, and culture festivals from different parts of India – all digital interactive experiences delivered and consumed remotely.
Catterfly soon extended the concept to many other themes including interactive virtual tour conducted by experts from countries as far away in Norway and Portugal, museum tours from France, wine tasting and cuisine workshops from Italy, and literature-based workshops on the life and works of authors like Shakespeare (Macbeth is set in Scotland and Romeo-Juliet in Italy). In each theme, a native expert from a far-away culture delivers a unique travel-based experience that shifted perspectives for others.
In fact, to manage this pivot Catterfly had to change almost everything–consumer segments changed, product portfolio transformed from 'High-Price: Low-Volume' to 'Low-Price: High-Volume', and with corresponding shifts in sales, marketing, finance, operations, technology and expert management approach. It is life turned upside-down but tremendously satisfying as there is no better privilege than helping others while finding the path. As one of the native artists mentioned, "Catterfly helped me to light candles and celebrate Diwali and was also standing by when the hurricane swept away my roof during the pandemic." In moments such as these Catterfly lives several lifetimes as it was positively impacting native artists, tribal women who themselves are driving girl child empowerment, schools in rural parts of India, and of course the workshop participants!
The new journey is still unfolding as Catterfly prepares for travel to rebound in newer ways. After all, a Caterpillar does not become a butterfly in one day and few aspects changed. It is the conviction that the principles which Catterfly adopted will outlast the founders and the existing team, and that their journey is already impacting lives of true torch bearers of a culture as they generate income with dignity. It was a win-win for the travelers and experts also, as newer ways of delivering-consuming travel-based experiences will stay with them in the future. These are the real Catterflyers who believe in the philosophy of change and personal growth by shedding their prejudices, biases, and constraints of the past. As they spread the message much further, there is no better hope for the entrepreneurs, especially in the times that we live in. If there is a purpose to life journeys, perhaps this is it!
This is not the story of Catterfly. It is about everyone and anyone who stepped out of the comfort zone and kept walking despite any odds that came in the way. There is no other way to grow, even though it may not be obvious at times.