It will now be almost one academic year since the pandemic situation forced universities worldwide to move towards online teaching-learning. IIT Bombay started its online classes in the last week of March 2020. The initial encounter with online instruction at the Institute now has moved beyond the anxiety of using 'tech for teaching'. The Institute faculty are no more anxious about the 'presence of the tech' in teaching, but their main concern is how to compensate for the 'absence of the human touch' in this new instruction medium. The biggest challenge that emerged from the panel discussion on 'Digital Learning: Bridging the Divide' by IIT faculty was 'How to humanize online learning experience and how to get the warmth of a physical classroom in online classes without compromising the sanctity of the system?'
Parimal and Pramod Chaudhari Centre for Learning and Teaching of IIT Bombay has been conducting panel discussion sessions by recipients of Prof. S.P. Sukhatme Excellence in Teaching Awards since 2018. It is a platform wherein every year awardees share their recipe of teaching and express their views on the changing paradigm of teaching-learning process at the Institute. This year the topic chosen was the most relevant to the times; transitioning from face-to-face classes to online classes. The panel discussion sessions on "Digital Learning: Bridging the Divide" were organized on September 30, 2020, and October 14, 2020. Prof. Gajendra Kumar Adil, Prof. Malay Mukul, Prof. Anurag Garg, Prof. Dinesh Sharma, Prof. Vaijayanthi Mala Sarma, Prof. Suvarn Kulkarni, Prof. Sahana Murthy, Prof. Suresh C. Patel, Prof. Nithyanand Prabhu, Prof. Nishant Sharma, Prof. Vikram Singh Sirola, Prof. Perumal Vedagiri, Prof. Sanjeeva Srivastava were the panellists for sessions. Prof. Sachin Patwardhan welcomed the panellists. Prof. Sandip Roy moderated both the sessions. The panel discussions' objectives were to deliberate on exploiting the new digital learning medium's strengths and subdue its disadvantages.
We have been hearing many anecdotes about the challenges posed by online learning for students,      right from school education to higher education. IIT students, for sure, are no exceptions. No doubt, the primary issue still remains to make the required resources accessible for every student. However, even with all the resources at their disposal, it is certainly not easy for students to learn in the virtual world, especially when one hasn't been exposed to the online medium for such an extensive duration.
It wasn't easy for faculty either to adapt to the online medium for teaching! There was some initial anxiety about using a different medium of instruction. On this backdrop, the panel discussion sessions unfolded how IIT faculty dealt with the situation. All the panellists were enthusiastic about the advantages of the online medium regarding its scalability, affordability, and versatility. They have accepted that the Digital Learning medium is here to stay as a New Normal in the post-COVID world.
Having taught in a face-to-face class for all these years, not seeing students around was certainly a strange experience. What was terribly missing in the initial days was the immediate feedback from students. Otherwise, instructors can get clues about how receptive students are from the students' real-time feedback in a physical classroom environment. This feedback is critical for bringing the necessary dynamism in the classes. In fact, for some courses, the actual content of a lecture is based on what the faculty hears from students during a class. The interaction and discussion that happens between students and faculty, and also among students, are very valuable to the teaching-learning process. Finding out an alternate solution for this was challenging as well as an intriguing question for faculty. Many innovative ways were adopted by faculty to replace these interactions in the classes. The list is too long ….Making use of the WhatsApp platform, initializing discussion through it, answering doubts through WhatsApp chats even through voice messages, using technology polling to get real-time feedback of students during online classes, roping in TAs in the chats for more manageable interactions, conducting low-stake surprise quizzes, channelizing students' interactions through focus questions, taking technology help to create breakout rooms for stimulating peer interactions, periodic polling, using technology tools to emphasis on collaborative learning… Everyone has tried a unique way that was suitable for the given course, content and students. Almost all the panellists mentioned the meticulous planning needed for online classes to make the classes more interactive and participative. Needless to say, this required more time and effort in addition to the online class time. Students' positive feedback has made all this worth it. During the discussion, the panellists highlighted that voluminous efforts in pre-planning an online class were a must to create a good learning experience.
It wasn't just about modifying the content delivery mechanism to suit online instruction but was also about the content. Initially, many of the faculty tried using the Flipped Classroom method; however, it turned out to be too much of a burden for students to watch recorded lectures for all courses. Students preferred live classes. Sharing lecture content in advance through Moodle has worked out very well with students. However, now the content needed to be more elaborate. Many of the courses required very detailed pictorial, animated, video content to compensate for the explanation that otherwise could have happened in physical classrooms. Sharing resources and video recordings of live online classes helped students, especially those who required more time to assimilate. This mode made them follow the class content better as they could learn at their pace. Digital learning has offered seamless learning opportunities to students to learn anytime, anywhere, and from any device. However, these advantages are valid for those who are self-motivated. In an online setting, identifying and helping students who are low on motivation is now a constant concern of faculty. With the human connect in the physical classroom, this is easy to do, but the virtual learning mode has indeed posed this challenge to faculty.
Along with content and content delivery mechanism, the third challenging issue to handle is about Assessment. Coming up with an evaluation process that doesn't intrude upon students' personal space and also doesn't compromise on fairness is very tricky. There is no ready solution of 'One-size-fits-all' and has made faculty develop innovative ways to address this issue.
IIT Bombay students don't just learn in the classrooms, but outside classrooms as well. At present, students miss out on a lot of informal learning and life-skill learning that happens @Nescafe, Shack, Badlu chaiwala, DesCafe, SAC and many more places on the campus along with chai and samosas. Hopefully, the world returns to New normal soon, and campus life is back to its hustle and bustle continuing with a blend of online and face-to-face teaching-learning.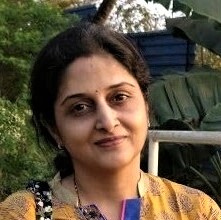 Latest posts by Mrinal Patwardhan
(see all)