Photo: Mid-April 1972 with batchmates and classmates from H4
It happened suddenly. Messmates started shouting and there was chaos. Demands were made as to who prepared aloo subzi for the dinner. 
Looking at bedlam, mess waiters as usual called the chef,  John. He came out of the kitchen. Mess representative put his hand on his shoulder & said, "Aaj jaisi subzi harroj banao!" John was confused as he used to face brickbats every week but this was a pleasant surprise. This scene is etched in my memory during hostel days from 1967 to '72. In those years, the mess bill was just Rs. 100 per month!
Imagine four meals, including non-veg items, to be prepared & served to 280+ hungry souls at pre-appointed times on each day. Incidentally, to avoid food wastages, a register was kept in the hostel manager's cabin for those who were away at weekends.
In the recreation hall near the canteen, there was a library & a radio but no TV during those years. Ardent music fans would listen to Binaca Geetmala on Wednesdays. Those having transistors would be engrossed in filmy songs & cricket commentary. In early 1971, the Indian cricket team was touring the West Indies. At 6 am, hoorays could be heard for glorious games played by our cricketers. 
Debates, indoor games, competitions, etc also took place in the same hall. A public telephone was installed near the hostel office & few inmates used a wire for a gratis call to their relatives. The watchman on duty yelled the room number of the hostel resident for whom there was a call. 
The ground plus two-level hostel building, in shape of two Es sewed to each other, was 5/6 years old (compared with 10+ towers of the present day). There were 12 rooms in each wing on every floor. The total no. of wings was six. hence  284 students were housed in all. There was a two-meter-tall asbestos partition between two adjacent rooms. A wooden cot, a chair and a closet were provided in each room. A concrete slab embedded in the wall served as a table. Each room was about 12'Lx8'W. Electric heaters for bath water and table fans were used. From my room, I could see the landing and take-offs of aeroplanes.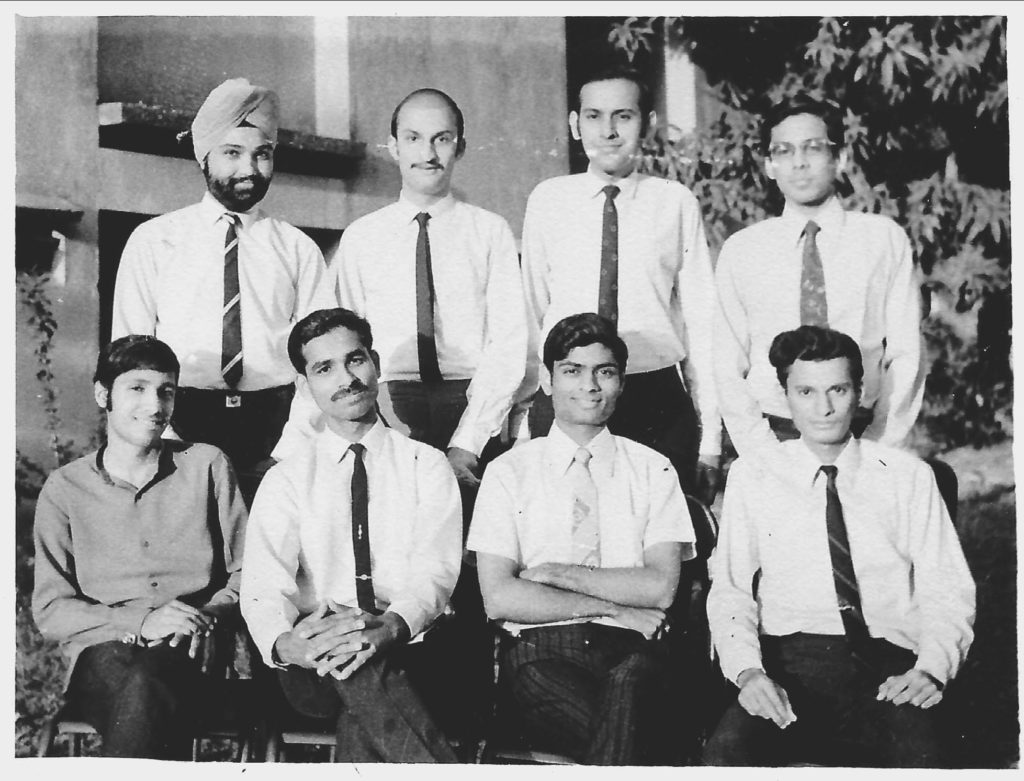 Let me admit that it's impossible to name all my batchmates after 50 years but I can confidently name all our eight classmates seen in the photo above.
Standing: Deedarsingh Ghatehorde, Rohinton Dhondy, Nayan Kapadia and Ashwin Shah
Seated: Uday Godbole, myself (Anil Patil), Suresh Jain and Mayank Thanawala
All standing classmates were in a hurry to catch the next flight and  migrated to USA and Canada. Those seated are in India!
In the beginning, staying in the hostel, I felt like a bird, let out to fly freely under the sky. I reminisce about my first day in mid-July 1967 at the hostel where I went by a taxi (no autos then!) with my dad. It was raining heavily. I had my few sets of clothes, mattress & bed sheets, a jug & a bucket, toiletries, etc. The freshers like me were informed to join two weeks in advance so that before the seniors arrived, we were acquainted with our batchmates, professors, dept. buildings, library, canteen before introduction to them and being ragged. I am sure you have read about ragging. That was time to pick up slang lingo for vernacular freshers. Evenings were spent in the gym, playing sports, practicing music. Later, our seniors befriended us and in the past few years, I have re-established contacts with them.    
Classes, tutorials and practicals were held in different places. In the beginning, many of us didn't possess bicycles. Hence we used to walk 8/10 km on weekdays. In the second year, I got my own. Nowadays, students may be using two- or four-wheelers. At the end of each semester, we, the Parlekars, used to ride back home on bicycles. Students hailing from Bombay & Pune used to stay in the same wing. A group of 15/20 students pedalled all the way to Pune on old Bombay-Pune Road.
The junction of the exit road from Institute and Powai Road was called 'Y' point where one could go for shopping. Subjects like Electro-magnetic fields, Network theory were tough & hence no cramming ever helped. On the eve of the unit test, we were near 'Y' Point. Suddenly, there was a brainwave to watch 'Khilona' starring Mumu at Shreyas in Ghatkopar. We returned past midnight & appeared for the exam in the morning. Lately, I learnt that few used to return in the wee hours after going to red light areas! True or false?
On a few occasions, my relatives would visit our hostel on weekends in the evening, walking 2 km stretch from the bus stop. My brother, then 8/9 years, would walk that distance for two Batata Wadas in the canteen! 
I am a member of a private group named IITB H4 on Facebook, the hostel where shooting of Hindi movie Chhichhore took place, a couple of years ago.
We used to celebrate festivals like Ganesh Utsav, Diwali, Holi. A monthly pass for Hindi/English movies on Fridays was priced Rs. 5! That was a great time to relax. Notable films were: Russians are coming, To Sir with Love, Genghis Khan, Boeing Boeing, It's a Mad, Mad, Mad World, Zorba the Greek, Doctor Zhivago, Sound of Music, Wait Until Dark, What Did You Do in the War, Daddy? There was once a delay to show a film. After waiting agitatedly, students sitting in the convocation hall started throwing paper arrows to the rooftop. Maybe, after 50 years, some arrows are still stuck up there!
In an election for the post of General Secretary, two hostel seniors viz. Beheruz Sethna & Uday Wagle from our hostel contested. Both later went to the USA. Sethna became chancellor of an American university. Two other eminent residents were Manohar Parrikar & Prafull Bidwai (who was a journalist of Times of India). Looking back, those were formative years for some to shine later in the political arena of the nation.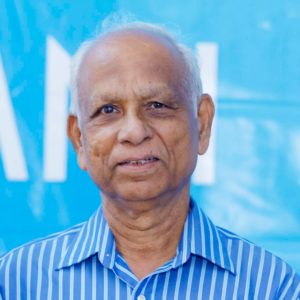 Latest posts by Anil Patil
(see all)